Vision
We want to be your partner in developing strategies which lead to results.
Case Study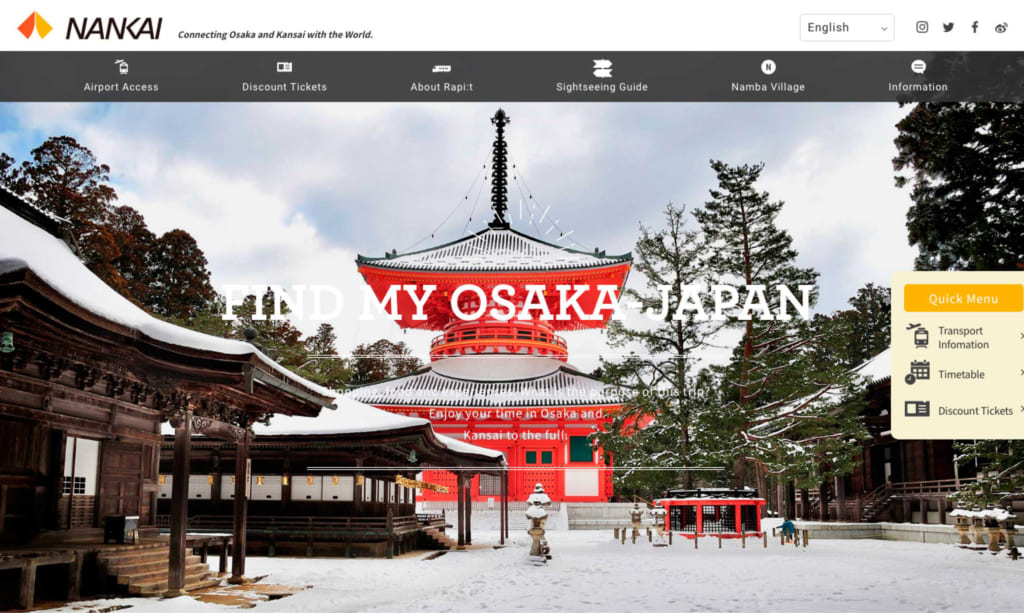 Building A Base for Inbound Promotion that Reflect the Needs of Foreigners
Multilingual Website Development / Brochure Production
CLIENT : Nankai Electric Railway Co., Ltd.
Overview
Up until now, Nankai Electric Railway Co., Ltd. has been promoting various inbound services such as a multilingual tourist information website, a railroad user guide website, and information dissemination on SNS. However, overseas travelers are looking for an even wider range of information, from station area information, how to use the railroad, and how to send luggage, to introductions of tourist attractions, and information on disasters and delays. Since the number of inbound travelers was expected to increase in the future with the Tokyo Olympics and Osaka Expo, it was essential to compile such information as soon as possible and develop an official multilingual website for the NANKAI Group.
Issue & Solution
In planning and producing the website, we started with surveys and interviews with inbound passengers to find out the needs of the target audience. Reflecting on the results, we devised the content and the way to present the information to meet the needs of those who expect to have a special experience in Japan, as opposed to simple, general tourist information. For example, it features spots where you can not only see, but also experience for yourself, and how to enjoy "Ura-Namba," which is also gaining attention within Japan. In addition, we prepared a video story of a passenger traveling around Kansai with a foreign model to convey a sense of realism. Of course, it also includes information on train services, how to purchase tickets at special prices, and how to get to major spots from the station; introducing a variety of information that can be used both before and during the trip. This is how "FIND MY OSAKA-JAPAN" was born. The site is available in five languages: English, Korean, traditional Chinese, simplified Chinese, and Thai. In addition, we used our expertise in website production to produce pamphlets for travel expositions and overseas expansion in English, Korean, traditional Chinese, and simplified Chinese. The aim of the pamphlet is to encourage inbound passengers to "use the Limited Express Rapid from Kansai International Airport" and "visit areas along the Nankai Railway Line," introducing information on the Limited Express "RAPITO" and plenty of sightseeing and experience spots along the Nankai Line. Here, too, importance was placed on the inbound passenger perspective. In order to make people interested in traveling to Japan when they see the cover, we focused on the four seasons and sightseeing spots unique to Japan, and developed the magazine in four languages, while changing the presentation align with preferences of inbound travelers from a particular country or area. For example, in the English version, we selected Koyasan in autumn, which is of high interest to the target audience of European and U.S. visitors. In addition, to make it easier for first-time visitors to Japan to understand, a map showing the locations of Osaka, Kyoto, Tokyo, etc. is presented with photos. By carefully examining the necessary information from the viewpoint of the target audience, we were able to create a highly appealing pamphlet.
Acheivement
This time, the website was developed in five languages and the pamphlet in four languages, of which Korean, traditional Chinese, and simplified Chinese were translated by Daishinsha Delight. Since we have the respective native-speaking staff, we were able to translate and conduct questionnaires to inbound passengers quickly, and reflect the results in the website and brochures. Although the current demand for inbound travel has temporarily decreased due to the spread of the new coronavirus, there are still high expectations for inbound travel in the future in anticipation of the Osaka-Kansai Expo in 2025. It is important to implement inbound measures at the optimal time, not too early and not too late. Daishinsha Delight would like to assist you in various aspects of your inbound policy, from discovering the needs of your target audience to content creation, promotion, and subsequent verification of results.