Vision
Through a commitment to better methods, creativity, and teamwork, mct helps clients pursue human-centered innovation.
Case Study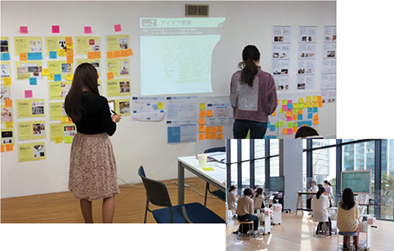 Design Sprint with Shiseido – How the Initial Idea for "Beauty Life Gym" Took Shape
CLIENT : Shiseido Japan Co., Ltd.
In the course of our work, mct has seen many corporate programs aimed at creating new ideas and new business, and we frequently partner with clients to conduct ideation workshops and design sprints within this scope.
One such client, Shiseido, has put forward significant effort into this space. Consistently seeking fresh and innovative products and services for their customers, one of their initiatives has been the implementation of a new idea proposal system for employees in the R&D department.
For ideas coming out of this program, mct worked with client members in 2019 to brush up the more promising ideas which had passed the first barrier.
In 2020, we heard the great news that one of the core ideas from this, "S/PARK Studio 美活 Gym" (hereafter referred to as "Beauty Life Gym"), had passed the subsequent internal reviews thanks to the activities of the team members, and would be realized into public events by the end of the year.
In the wake of this, were able to catch up with a few of the project members from Shiseido and reflect on what helped contribute to this outcome.
1.The Secrets to Successful Realization
mct: Like many employees tasked with developing new business ideas, there are difficulties in carrying out such work in the midst of the main business activities. What key factors do you think contributed to successfully seeing this idea come to life?
All team members were passionate about the project, and there was a strong sense of "I want to do this!"
Higuchi san: "What was good about this project was that all the team members had a strong desire to do it. Rather than one particular person working hard to carry it forward, everyone was voluntarily doing their best, so there was no overload on any one person. Also, because it was not a top-down project, we were able to move forward with what we thought was a good idea while getting our own approval, and we were able to maintain the direction we wanted to take."
Suzuki san: "It's good to have a passionate person like Higuchi san who says, 'Let's definitely do it!'"
Higuchi san: "At first, Hori san and I were talking about how we wanted to create a place that would make people excited."
Hori san: "It wasn't until we had the right team members that we started to take concrete steps. Higuchi san was very passionate about the project and was determined to move forward despite obstacles. I think it's a rare case that we were able to reach the launch stage despite some member changes. I think it's because we worked together as one."
We were able to get feedback in-house, and the overall environment supported event prototyping.
Fukuda san: "We kept the original concept intact, but we were asked to make sure the methods we were using were unique, so we did some testing. We looked into what kind of changes would occur if we used these methods every day, and added data to show that we could more confidently say that these changes would occur."
Higuchi san: "We asked the users who would cooperate in the test to come and take the lessons, and then we asked them to come once a week for a month, and then we asked them to do it at home as well, and then we were able to see what kind of changes they had made in a month."
Suzuki san: "We also created an app for measuring smiles."
Fukuda san: "It's an app that measures the degree of smiling using a tablet device, but we haven't released it to the public yet, so it's only downloaded to the iPads in the Beauty Life Gym, and people can use it when they come to the venue."
Suzuki san: "Before the test, we also gathered about 20 people from within the company and asked them to color in the areas of interest on the paper with pens to check the concept."
Effectively utilizing resources to achieve what we can do first.
Suzuki san: "We were able to release the product to the world because we started small, not by creating the final business, but by creating a place where our researchers could interact directly with customers using the space of an urban research institute."
Higuchi san: "First of all, we did what we could do. We had a good boss. We thought we should do a little more verification, but we had a boss who said, 'Let's try it first,' and he backed us up, which was a big factor."
2.About the Design Sprint Project with Shiseido
Early in the process, mct was asked to develop a user-centered process for brushing up early ideas, initial screening, and then further verifying ideas which passed. Although they had a concept in mind, they wanted to hear the customer's response with respect to defining the core Minimum Viable Product (MVP), as it had not yet been determined. mct supported the project team in the form of a design sprint project.
mct's 5 Day Design Sprint with Shiseido
Developed by Google Ventures, Design Sprint is an approach for quick turnarounds in the processes that form the basis of design thinking. The original program is an intensive 5-day program, but since it is usually difficult for clients to block a whole week, we tend to adopt open up the intervals between steps while maintaining the essence of the program. Even over the course of a 2-3 month "Sprint", we can utilize the gaps to our advantage. And during the individual sessions we set clear time frames and conditions to maintain a higher level of focus and motivation.
In our Design Sprint with Shiseido, we helped them brush up their ideas across five whole-day sessions spread across a several weeks. We moved from clarifying the user hypotheses to ideation and prototype development, before moving on to user testing and idea refinement.
mct: Looking back on the Design Sprint process with mct, what would you say were the benefits of this approach?
By bringing in an outside perspective, we were able to sharpen our ideas.
Hori san: "If we had done it ourselves, we would have ended up with only the knowledge we already had, and no matter how much we discussed it, it would have become stiff. It was good to have a trusted outside voice there to help us narrow down our ideas. The Beauty Life Gym itself was a grand theme, and there were all sorts of ideas that we wanted to do within that."
Suzuki san: "When you are in a research institute, I think some people start to lose their sense of what is 'interesting' in an everyday sense. While talking with mct members, when you expand on a particular research topic, you might get the sense of 'Oh, this kind of thing is actually interesting. There might be something here…' So I thought it was a good thing to find out what they were interested in expanding on and why."
The visualization of vague ideas made it easier to share and discuss among the members.
Higuchi san: "I think it deepened what we had in mind. We were able to use the pictures and drawings to create images of the ideas and discuss them."
Fukuda san: "I think the way we proceeded with the drawings was really good. I still have the original drawing, and we still use it in our internal documents. It was a good way to get concrete ideas and a common understanding among the team members."
Suzuki san: "The logo* at the time was also very effective in conveying our image during the process."
Hori san: "It made me realize how strong a visual image can be, whether we are talking to ourselves or to our customers."
*The logo created at this time was a prototype and is different from the current logo.
Through the interviews, we were able to get a more realistic image of the people as users.
Suzuki san: "After interviewing four people, I had an image in my mind of what a target woman of 30 years old would look like, but it was not very specific. It was great to actually meet the women and hear their in-depth stories, and I was able to keep them in mind when creating the actual concept."
We were able to dig deep and refine our concept in a short period of time.
Suzuki san: "I think it was good that we had a short, intensive session like a training camp.We were able to get closer to concept's core by thinking only about this project and staying with it the whole day."
Fukuda san: "Because it was short term and intensive, I was able to think deeply at that time. Things I thought about in that way didn't blur easily afterwards."
3.About the Beauty Life Gym Events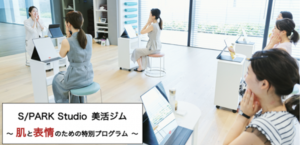 From Shiseido Research Institute! "S/PARK Studio Beauty Life Gym", A Special Program for Skin and Facial Expressions
Source: Peatix https://peatix.com/event/1660475/
The idea that was successfully implemented as an event, "Beauty Life Gym," a program for skin and facial expressions based on results developed by Shiseido researchers. The program starts by using a unique application to learn about your current state, and then the special instructors, Shiseido researchers, and beauty consultants who are professionals in the field of beauty, will lecture you about skin and facial expressions, and methods that you can continue to do yourself at home.
Although Shiseido is a well-known cosmetics brand, it is not often that you can have an opportunity to talk directly with its employees and researchers, or even learn about beauty based on their research.
The first two sessions were held on October 31, 2020 and December 26, 2020, with a total of more than 40 people having participated so far.
mct members also had the opportunity to observe the sessions, and it was satisfying to see the how the ideas from early stage support had become realized in the current sessions.
The venue was a beauty complex located on the lower level of the Shiseido Global Innovation Center S/PARK, a newly developed, state-of-the-art research facility in downtown Yokohama. As part of the measures against COVID-19, the event was held in an open space with social distance. The two instructors introduced various beauty tips that could be done at home around one of the session's themes ('warmth' in the case of the December 26 session), as well as taking pictures and analyzing smiles before and after the lesson using iPads prepared for each person beforehand. One of the lecturers was Suzuki san, who has been involved with mct this project from the start. Observing the sessions, it was impressive how engaged the participants were during the workshop.
For the Shiseido project team, the plan is to continue holding such events four to five times a year, while looking at ways to further expand the scope of their Beauty Life Gym activities.
---
This article originally appeared in Japanese at mct's company blog: https://media.mctinc.jp/blog/20210203
An interview article between Shiseido researchers around this and other user-centered initiatives in the midst of COVID-19 can be found here (Japanese only): https://spark.shiseido.co.jp/fibona/activity/876